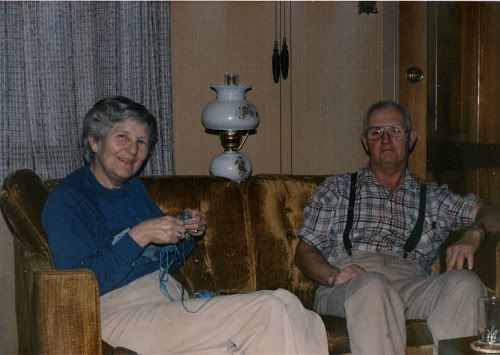 HAMM, Louisa Margaretha - 84. It is with great sadness that we announce the death of our loving mother, who passed away peacefully on April 2, 2007, in the Halifax Infirmary, QEII, while surrounded by the love of her children. Born in Amsterdam, The Netherlands, to parents Jan and Dirkje Spier, she met and married Lionel Hamm in 1946. She came to Sambro as a war bride and devoted her life to her family. Her home-baked bread and pies were second to none and we will think lovingly of Mum when we see a perfect line of clothes blowing in the breeze. Louisa was predeceased by her husband, Lionel Rupert Hamm. Louisa is survived by her children, Yvonne Hamm, Karla Patterson (Ernie), Loraine Smith (Larry), Ava Smith (Dave Whalen), Perry Hamm (Wanda), Michael Hamm and Joanne Hamm; 12 grandchildren and three great- grandsons. We extend our heartfelt thanks to the medical and nursing staff on 8.2 and 8.1. At Louisa's request, there will be no service. Cremation has taken place. A private family service will be held at a later date. As Louisa was an animal lover, a donation to the SPCA would be appreciated in lieu of flowers.

Many years ago Oma taught my sister, who in turn taught me a little Dutch counting song. I was very young and of course knew it only phonetically; I think I'll always remember the tune:



'Een, twee, drie, vier,




Hoedje van, hoedje van...




Een, twee, drie, vier,




Hoedje van papier




Is er dan geen hoedje meer




Maak er een van bordpapier




Een, twee, drie, vier,




Hoedje van papier'





'One, two, three, four,




Little hat of, little hat of...




One, two, three, four,




Little hat of paper




Is there no longer a hat




Then make one from cardboard




One, two, three, four,


Little hat of paper'

I wish I had a picture to share of Oma when she was a beautiful young woman in Holland, or even the photo that was displayed for many years in our living room; the one of her as a child of six, perhaps, with her little dolly cradled in the crook of her arm and a characteristically drawn expression about her features. She told me the story of that photo, about how one rainy Sunday she suddenly decided she wanted her photograph taken. Her father, who doted upon her, cut short a card game to indulge this whim. The doll she held had been without clothes until a local woman stopped her in the street and inquired as to why the toy was naked, why her mother hadn't made some clothing for it. "My mother is dead." little Louisa replied, and not too long after she was presented with a new, hand-made outfit for her dolly.


I love you, Oma. I'll miss you. I'm so sorry I wasn't there to say goodbye.